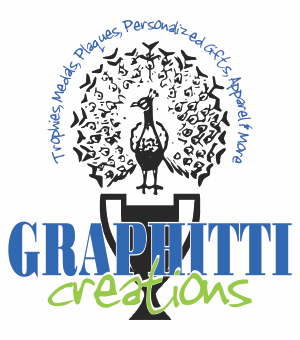 Our Mission
We strive to provide pricing, service, and products that bring a joyful end result to each and every customer or event. Every customer drives a unique request. We enjoy the delight in our final products that our customers experience. It is important that we achieve that delight each and every time. Delight in design, delight in service, delight in price!
Our Process
Sublimation is the transition of a substance directly from the solid to the gas phase without passing through the intermediate liquid phase. It allows us to offer full-color awards, gifts and apparel in small to large quantities without the screen or art charges.  Using our patented ink and press technologies, we offer rapid turn-around service for customers who need to make an dynamic impact with a tight time-line.
Graphitti Creations is a full service award and recognition provider.  Our inventory of full-color options includes plaques, trophies, medals, cups and more.  Our extensive selection of corporate and personalized gifts is decorated through sublimation; a full-color impression process. Through sublimation and heat transfer, apparel needs are met at Graphitti Creations for corporate, athletic, and personal customers. Additionally, we offer design services for the corporate and personal customer and event styling for the special event.
Trophies, Plaques & Medals | Corporate, Event & Personalized Gifts, completely customized to reflect your image, design or event theme.
Personal | Team | Business
One-piece or hundreds, through the use of either heat transfer or sublimation application.
Personal Styling | Corporate Branding
for events, both personal and professional, and branding for small businesses or large corporations.