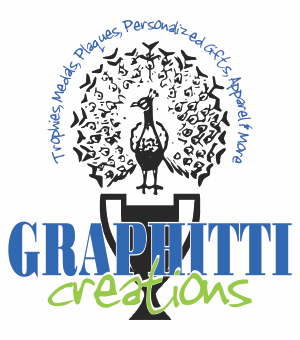 Graphitti Creations is a full service award and recognition provider.  Our inventory of full-color options includes plaques, trophies, medals, cups and more.  Our extensive selection of corporate and personalized gifts is decorated through sublimation; a full-color impression process. Through sublimation and heat transfer, apparel needs are met at Graphitti Creations for corporate, athletic, and personal customers. Additionally, we offer design services for the corporate and personal customer and event styling for the special event.
Strive to provide pricing, service, and products that bring a joyful end result to each and every customer or event.
Every customer drives a unique request. We enjoy the delight in our final products that our customers experience. It is important that we achieve that delight each and every time. Delight in design, delight in service, delight in price!
Sublimation is the transition of a substance directly from the solid to the gas phase without passing through the intermediate liquid phase.
It allows us to offer full-color awards, gifts and apparel in small to large quantities without the screen or art charges.  Using our patented ink and press technologies, we offer rapid turn-around service for customers who need to make an dynamic impact with a tight time-line.
---
Awards | Trophies, Plaques & Medals

70%

Apparel | Heat Transfer & Sublimated

35%

Gifts | Corporate, Event & Personal

25%

Design | Corporate, Personal & Event Styling

55%
---
Our goal is $500 for the 2016 HOLIDAY CAMPAIGN, will you please consider helping? 100% of your donations will be used to bring HOPE to the children of ERIE COUNTY this holiday season.
Participation is simple, send your check, drop off your $$$, or visit our paypal and GIVE: then send your personalization information and/or t-shirt size & style preference via email and we will confirm and prepare your proof and pick-up delivery arrangements. If you need to arrange shipment, we will happily do so in the most economical way for you (costs of no more than $6.80 for USPS flat rate).
HELP US bring hope to the 6000+ children within the boundaries of ERIE COUNTY, PENNSYLVANIA!
Visit TOYS FOR TOTS ERIE COUNTY PA on FB to participate in other activities during the 2016 Holiday Campaign.
---
Contact Us Today for A Free Consultation
Throughout the production process; we pride ourselves in the quality of our design and the products used to showcase those designs. Whether a trophy for your little league all star or a favor for every guest at your wedding reception, our diverse design/construction team, suppliers, processes and experience through awards production, graphic design and/or event styling make Graphitti Creations an excellent partner in your planning process.
What kind of clients do you work with?
Clients with our without artwork | with or without large quantity demands | who want quality results, joyfully delivered.
Sublimation allows us to price our awards, apparel and gifts affordability for a one piece order or several hundred.
In-house art and design services allows customers to choose creative and unique event enhancement without additional set-up or art charges added to production costs.
Strategic supplier partnership, such as our heat transfer partner, allows us to offer the look of silk screen to teams, events, and organizations at a fraction of the costs.
What is your turn around time?
Turn around times vary based on request of service.
Design proofs | 3-5 business days
Standard Awards | 3-5 business days following proofs (can request 24-HR rush on limited items)
Sublimated Gifts | 5-7 business days following proofs (can request 24-HR rush on limited items)
Heat Transfer Apparel & Gifts | 3-5 business days following proofs
Don't Be Shy
Drop us a line anytime, and one of our customer service reps will respond to you as soon as possible
Email