The choices are fun and endless for CAR TAGS (formerly known as License Plates).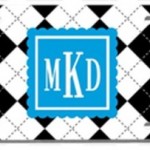 In beautiful patterns and/or designs combined with thousands of font possibilities and colors…
Graphitti Creations in-house design team can happily create tags that celebrate your interests or simply display your own personal style and mark through the trend of monogramming.
Starting at $15 (which includes your design fees and production costs), Custom Car Tags make excellent personalized gifts for Christmas, Birthdays, and Coaches' Gifts.
If you are interested in a wholesale fund-raising opportunity, we are happy to discuss a bulk-buy for designs to assist your Athletic Team, Club, Church, Business, or Organizations while creating a lasting marketing impression on your custom TAGGED cars.